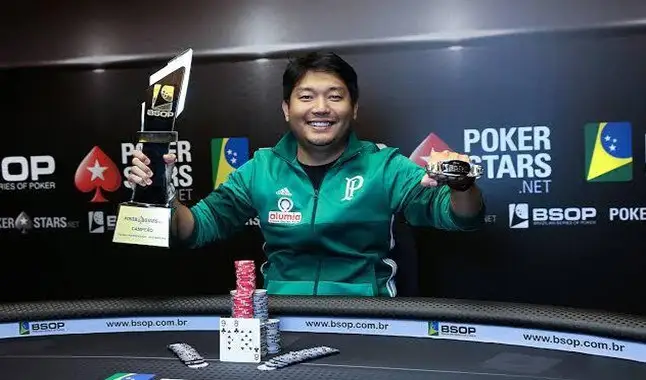 "The advice I give to beginners is that in poker we can't jump steps. No one plays the first tournament, wins and becomes a professional."
Luis Henrique Kamei is a player who is making history in Brazilian poker. Kamei was the KSOP Belo Horizonte Main Event Champion in November 2018. In addition, he recently won the BSOP Iguazú Main Event title in the first season of 2019, in which the Brazilian won with a Field of 834 entries, conquering the trophy and wining $89,030.
With these achievements, he became the first to win the two best poker events in the country.
This player is currently in Rio de Janeiro, where he participates in the KSOP, a tournament that has more than 30 events and a guaranteed prize of $5,000,000. The tournament started on November 6th and ends on November 13th.
Read the full interview with Luis Kamei:
1- How did your career in poker started?
A: I started by watching poker on television. Then I opened accounts on online sites. After that, I entered the university, in Coritiba, where I got to know poker clubs.
I started my career playing Cash Game and MTT online. I currently play the circuit live and on MTT online.
2- How long have you been playing poker professionally?
A: I have been playing professionally since 6 or 7 years ago.
3- How is the routine of a poker player?
A: It depends a lot on each one, but basically it's about studying and playing. Everyone has their schedules and routines.
4- What do you think about the evolution of Brazilian players?
A: I think the evolution of Brazilian players has been great, since Brazil is at a very good international level and owes nothing to any country in the world. In fact, since some countries are no longer part of Pokerstars, like the United States, I think they were left behind by Brazilians. This is because online poker makes you study more and play many hands to analyse.
5- What are the biggest differences between the online world and the world of live poker?
A: The biggest difference in my opinion is that online many players are good at reading statistics and exploiting the rivals with that, live there is no "hud" next to each player, so they cannot adapt to the "field" and they fail to see the trends of the "field". ("hud" means "heads up display", or display screen, it is basically a window that is next to each nick in online poker, with the statistics of each player, for example, % of cbet, % 3bet pre flop, fold to cbet).
It is also important to keep in mind that in live poker there are no ghosts (laughs) (a ghost is basically when a player is online and someone helps him to play, usually a more experienced and technically better player).
So, there are many people who have earnings online and not so much live and vice versa.
6- How do you feel after being the first player to win the two biggest events in the country (KSOP Belo Horizonte and BSOP Iguazu)?
A: I am very happy. It is a great privilege and I'm proud to have been the first and, for the moment, the only one who has won both (laughs).
7- What do you want for your career in the future?
A: About my career, I want to continue making money and I hope to have fun playing poker, because it is what I most like to do in life. And maybe one day I will win a WSOP bracelet (laughs).
8- What are your main poker inspirations?
A: When I started playing and was under 18 years old (laughs).
I remember watching Alexandre Gomes winning wsop, wpt. André Akkari will always be an idol too.
I used to play a lot in "Full Tilt" and there Leandro Brasa, Christian Kruel CK and Raul Oliveira were "Team Pros" and I was happy playing with them at the tables. At that time, if you eliminated one of them, you would win a "Full Tilt" shirt (laughs).
So, all of them were an inspiration when I started playing and, thank God, today almost all of them are my friends.
I never told them that, but I have given many bad "calls" to eliminate them and win the shirt.
9- What advice do you give to people who are starting in the poker world?
A: The advice I give to beginners is that in poker you can't skip steps, because nobody plays the first tournament, wins and becomes a professional. And if you win, you will surely lose before winning the next one. So, the first step is to build your bank roll, join a team, learn and evolve with the best. Increase the limits according to your "bank roll" and the level of your game.